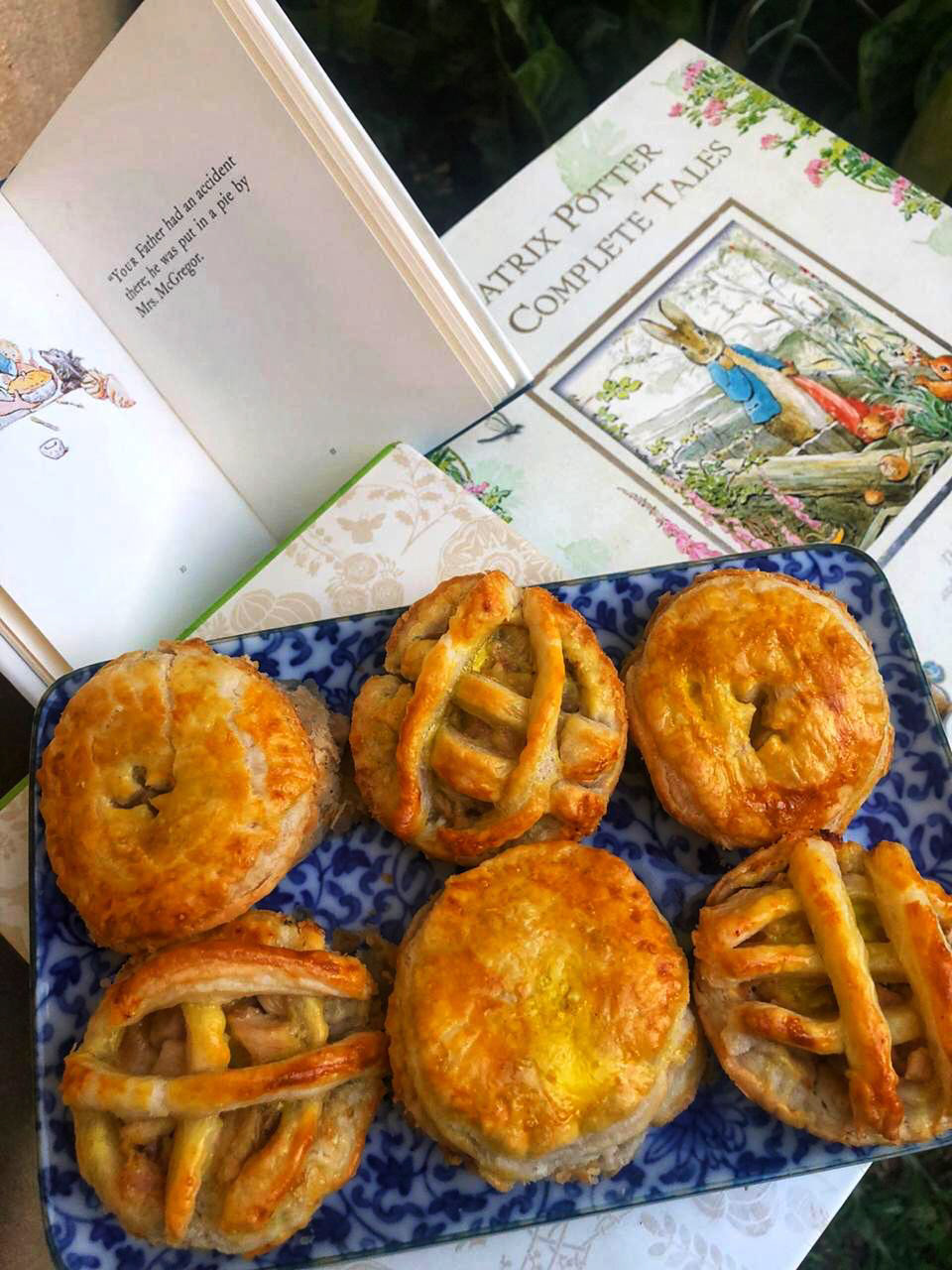 There are so many 'hungry' children's books out there, full of wonderful descriptions of food and elaborate meals. In an effort to encourage Miss Podi Hands to read more and taking inspiration from 'book food', we will be making a series of dishes based on food from children's books, which I've titled Bookish Bites. 
"Your Father had an accident there. He was put in to a pie by Mrs McGregor." - The Tale of Peter Rabbit, Beatrix Potter.
So, the first recipe in our Bookish Bites series admittedly has a slightly dark twist to it. However, this book is one our favourites, as it was one of the first books Miss Podi Hands and her younger brother were introduced to. 
This is not a rabbit pie though. We used a predominantly chicken based filling, with a bit of bacon and chopped hard boiled egg.
First, to make the creamy meat filling, portion out the chicken. We used a bone-in chicken breast, leg and back quarter with skin. The bones add flavour, so cooking it bone-in is best. Brown the pieces of chicken in a hot pan. Then, add salt, cloves of garlic and about 150ml water and simmer for about 15 minutes, until the chicken is cooked through and there's  braising liquid or chicken stock left in the pan. Reserve this stock to use later. De-bone and chop up the cooked chicken and the soft garlic in to small pieces. 
Cook the chopped bacon, onion and garlic until the onion is translucent and the bacon cooked through. Add chopped chicken, chopped egg and chicken stock. Dissolve cornflour with milk and add it to the chicken mix, stirring continually until the sauce thickens. Make sure you stir well, as the cornflour will cause the mixture to thicken quickly and may form lumps. If the mixture seems to dry, add a little more milk. Leave the mixture aside to cool. (This is a predominantly meaty mix. However, you can add boiled potatoes, carrots, celery, herbs, green peas etc for a more balanced, veggie-incorporated filling.)
To make life easy, I use store-bought frozen puff pastry, which just needs to be defrosted for an hour, rolled and cut out. We made our pies in a small cupcake tray, but you can always use a large baking tin/dish and make one big pie.
To assemble the pies, grease the tin with butter or oil to ensure the pastry will not stick. Then, cut out a circle of puff pastry for each pie and use your fingers to make it fit snugly in the bottom of the tin. Add a dollop of the cooled meat filling and top it with either another circle of pastry, or pastry strips to make a pretty pattern. Seal the edges with a fork. If you're using a circular pastry disc on top, be sure to make a small snip on top for the steam to escape. Brush the tops of the pastry with egg wash (a beaten egg with an optional drop of yellow food colouring). Bake in an oven preheated to 200C for 15 - 20 minutes, until the pastry is golden brown and cooked through. The baking time will differ according to the size of your pie.
​​​​