"Parfait" means 'perfect' in French and has all the makings of a perfect dessert. Traditionally, a parfait is made with cream, eggs and sugar. It's a rich dessert with layers of custard, granola and fruit, ideally served in a glass. This is a slightly healthier version that has no cream, egg or much added sugar. We use yogurt, or in this case curd to get that lovely rich creamy texture and honey for sweetness. 
Our fruit of choice is pineapple (because that's one of the fruits Miss Podi Hands likes), but mango, banana, fresh berries or even stewed pears would be marvelous.  As far as desserts go, this one is pretty healthy and made with breakfast ingredients. So, dessert for breakfast? Yes, please!
Ingredients
 - 3 slices of Pineapple
 - 250g of Curd/Yogurt
 - 2 tbsp Honey
 - 1 tsp Sugar
For the crumble
 - 4-5 Cookies or Biscuits
 - Handful of Nuts
 - 2 tbsp Oats
To make the crumble, crush your cookies or biscuits of choice. We used 2 leftover sugar cookies and 3 Marie biscuits that had lost their crunch. We just crumbled and crushed them with our fingers, since chunks in the crumble add texture and crunch. 
Place the crushed biscuits, oats and chopped nuts (we used slivered almonds) on a foil or baking paper and toast till golden. We used our air fryer, on 200C for 4-5 minutes, but you can also pop them in to a hot oven for a few minutes or just toast them in a dry flat-bottomed pan on the stove top. Make sure to toss the crumb about so that it doesn't burn and is evenly toasted. Allow to cool while you make the filling. 
First, caramelize the pineapple till deliciously golden and soft. We coated the pineapple in a scant teaspoon of sugar and a few drops of honey and browned it in a hot pan. (If you're using soft fruit like mango or banana, you can skip this step.)  Once cool, we puréed the pineapple till smooth.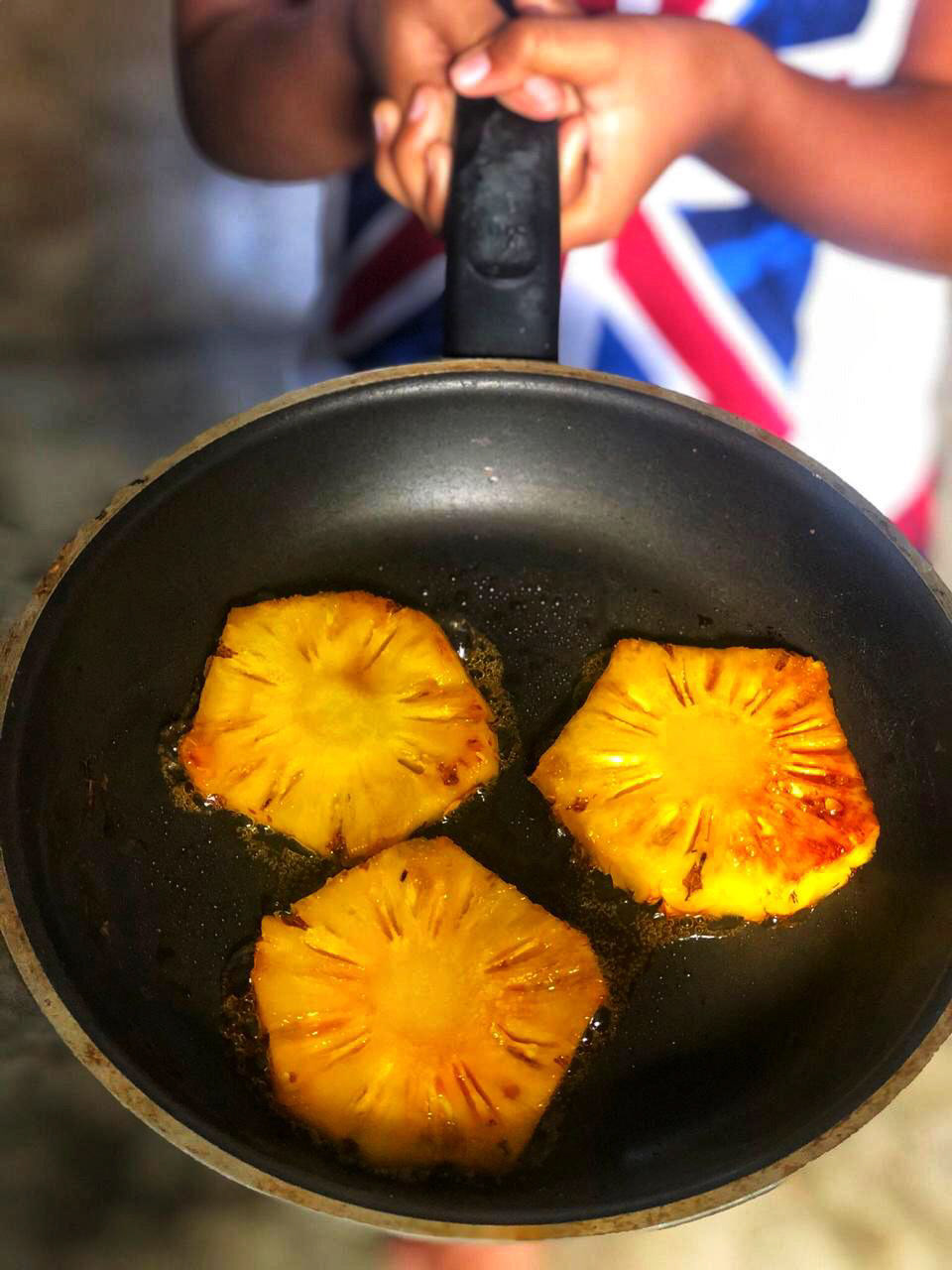 Next, make the filling by whisking the curd until smooth. You can use regular yogurt or Greek yogurt instead as well. Whisk in 2 tablespoons of honey and the fruit puree. Taste the filling and add more honey if needed. 
To assemble, add a couple spoons of the crumble mixture to the bottom of your glass or jar. Top with the creamy, fruity filling. Chill this in the fridge for a couple of hours. Add more crumble on top and serve!
The crushed biscuits in this parfait give it a touch of decadence, while the rest of the ingredients make it healthy enough for breakfast.