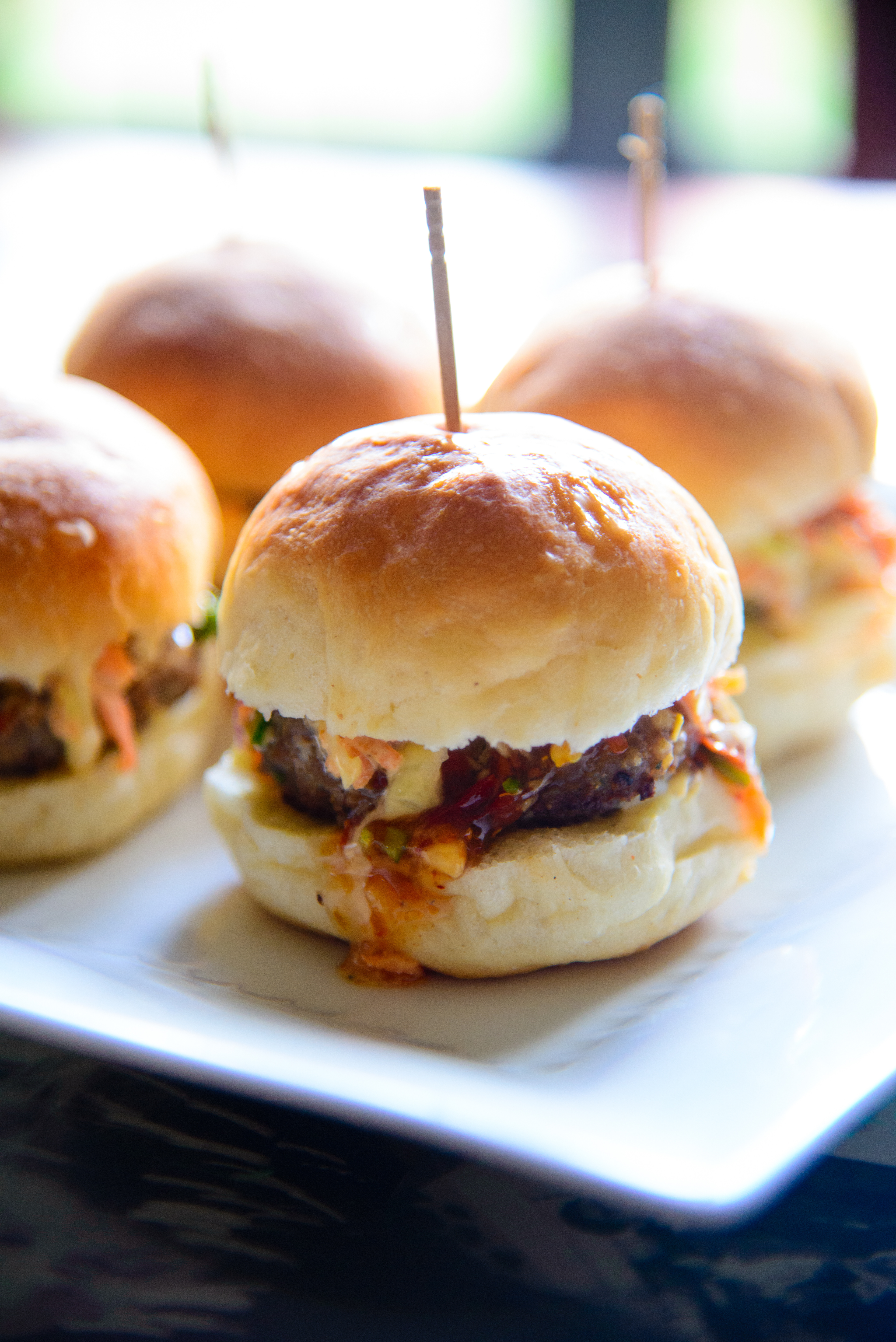 A slider is technically a mini burger, filled with meat and cheese, usually a greasy mouthful that slides down easily. This recipe is a healthier version on a slider and is a really quite versatile. The Honey Soy Chicken can be used, not only in sliders, but in burgers, subs, sandwiches, pasta, fried rice or noodles and even as a pizza topping. Using chicken thighs ensure moist juicy meat, but you can always use chicken breast - just watch the cook time as they cook much faster. The Garlic Yogurt is a flavour bomb. You can play around with the quantities of ingredients to make it healthier or punchier.  It can be kept in a clean airtight jar in the fridge for up to 2 weeks. 
 - Dinner buns or buns of choice
 

 - 

4 - 6 boneless Chicken Thighs
For the Honey Soy Marinade
 - 1 tbsp Honey or Kithul treacle
 - 2 cloves Garlic (crushed)
 - 1 Green chili (finely chopped)
 - Fresh Cilantro (or herbs of choice)
 - 1 tsp ground Mustard paste
Prepare chicken thighs to make sure it cooks evenly by flattening with a meat tenderizer.
Mix soya sauce, treacle, tomato sauce, minced garlic, finely chopped green chilies, cilantro and salt.
Marinade chicken in this mixture for at least 2 hours, preferably overnight.
Sear chicken in a hot pan, then cook on medium heat until browned and cooked through.
Once chicken is cooked, remove from pan.
Cook sliced onions in the pan juices of the chicken.
Add salt or a splash of soya sauce, once onions are brown and caramelized.
In a food processor, blend minced garlic, mustard paste, yogurt, mayonnaise and salt till smooth.
Mix some aioli with shredded cabbage, for a cabbage slaw.
Place a spoonful on the aioli on the base of the bun.
Top with chicken, cabbage slaw and caramelized onions.
(Add sweet chili  or hot sauce for added flavour)
Place the top of the bun and secure with a toothpick