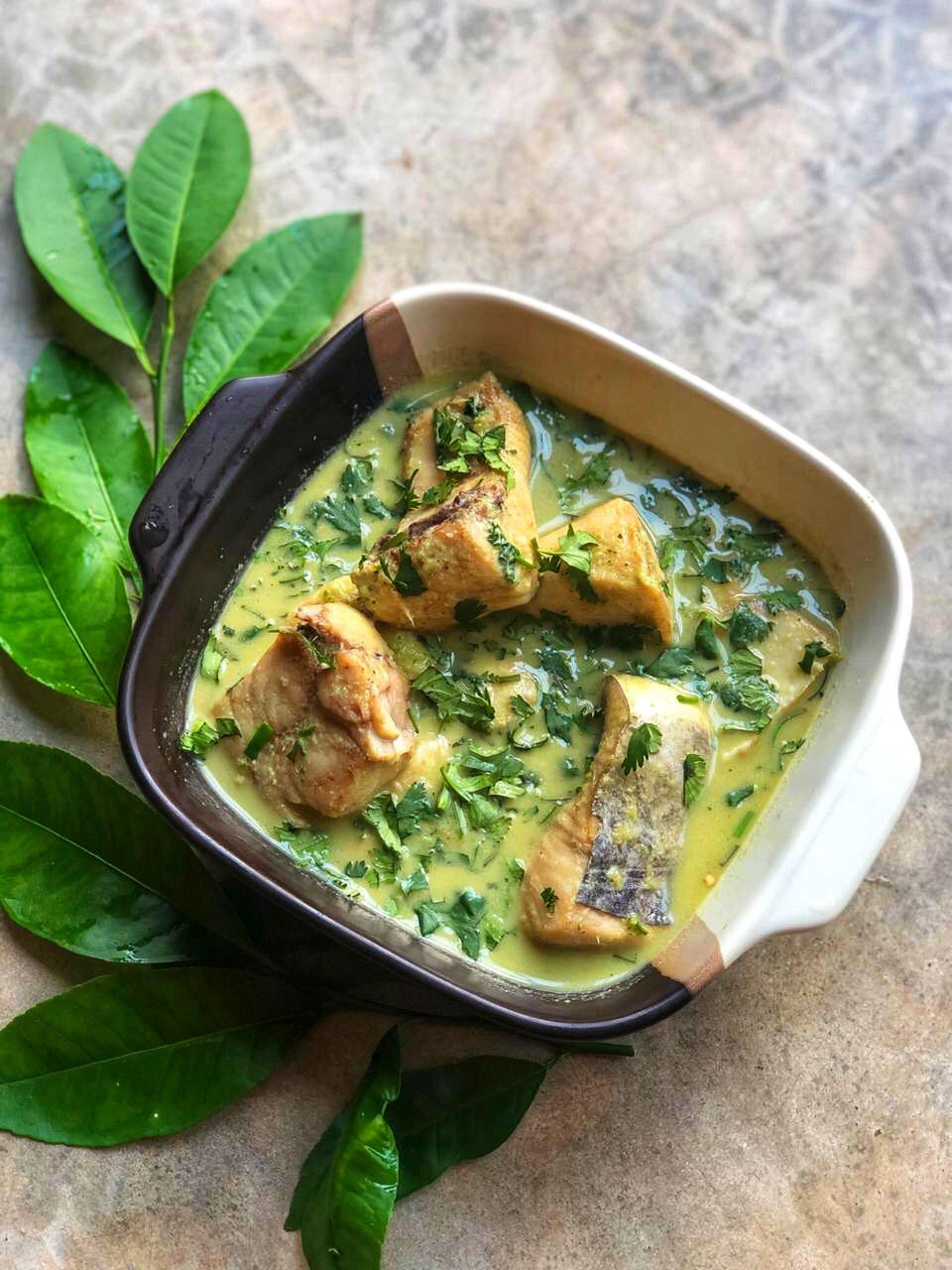 I'm a huge fan of Thai Red Curry, but with no access to red chilies, green curry is the next best thing!  This green curry looks mild, as we didn't use as many green chilies as we should have, but it had a proper spicy kick of chili.
 - Seer fish
 - 1/2 an Onion
 - 3 cloves of Garlic
 - 1/2 tsp minced Ginger* 
 - Few stalks of Lemongrass*
 - 5-6 Green chilies 
 - Soy sauce
 - Fish sauce
 - Coconut milk 
 - A small cheek of Lime juice 
 - 2-3 Lime leaves*
 - Coriander leaves 
 - Cumin & Coriander powder
 - Sugar 
 - Salt 
I started off by de-seeding the green chilies. The chilies were incredibly potent and spicy and since the kids were eating the curry too, this was a necessary step. We then made the curry paste by grinding the green chilies, onion, garlic, ginger, lemongrass, and coriander stems to a fine paste. We marinaded the fish in a couple spoonfuls of this curry paste, as well as some soy, salt and lime leaves. 
To make the curry, I fried off the curry paste in a drop of oil. We seasoned it with coriander and cumin powder, soy sauce, fish sauce, lime juice, salt and a bit of sugar to balance out the flavours (since we didn't have palm sugar or jaggery). We then added the coconut milk and a few more stalks of bruised lemongrass. When the gravy started to simmer, I added the fish and lime leaves. The fish cooks in minutes and is luscious and soft, as it is just poached in the hot curry. 
When it comes to serving this, I like to place the pieces of fish in my bowl first, then strain the gravy over the fish through a sieve. This takes out all the stringy bits of lemongrass, leaving a nice smooth gravy. I then blend the remaining bits in the strainer with a touch of the gravy and strain it again, making sure to squish out as much flavour as possible. Scatter a handful of chopped fresh coriander leaves on top and serve hot. 
* The ginger, lemongrass and limes are all homegrown and organic so they are full of flavour and we don't need to use much. ​​​​​​​