"The children bought sausage rolls again, and fruit, and picnicked on the beach."
- Five Run Away Together, Enid Blyton. 
A picnic on the beach, with sausage rolls to snack on... that just sounds perfect, doesn't it? I love how often sausage rolls feature in Enid Blyton's books. The Famous Five and Five Find-Outers are constantly eating them, as are the Six Cousins of Mistletoe Farm at their splendid high teas. These sausage rolls, however, aren't 1940s British ones. Neither are they your run of the mill, bland pastry + processed chicken sausage local bakery ones. These are flavorsome, meaty and by no means traditional. 
 - 2 boneless Chicken thighs
First, to make the meat mix for the filling, finely chop carrot, celery and potato. I use a food processor to speed things up. Squeeze out any excess moisture and place the veggies in a strainer to allow the extra liquid to drain out. I usually avoid using onions in this recipe as they hold a lot of liquid.
Next, remove the casing from the lingus and grind it in the food processor, along with the chicken thighs and garlic sausages. Using chicken thighs and lingus lends fat and flavour to the filling. However, if you don't have access to lingus, you can use any spiced sausage - like chorizo. The flavour of the spiced sausage will obviously make a difference in the taste of your sausage roll. You can always add your favourite spices, like paprika and cumin to add flavour as well. 
Then, mix in the veggies and season with tomato sauce and salt.
To assemble the sausage rolls, roll out the puff pastry to a long rectangular strip. Pop the meat mixture into a piping bag and pipe a long sausage along one edge. Roll the pastry over (until the meat is completely encased in pastry) and seal the edge with egg wash. Cut it to your required size, place on a baking tray lined with baking paper and brush the tops with more egg wash.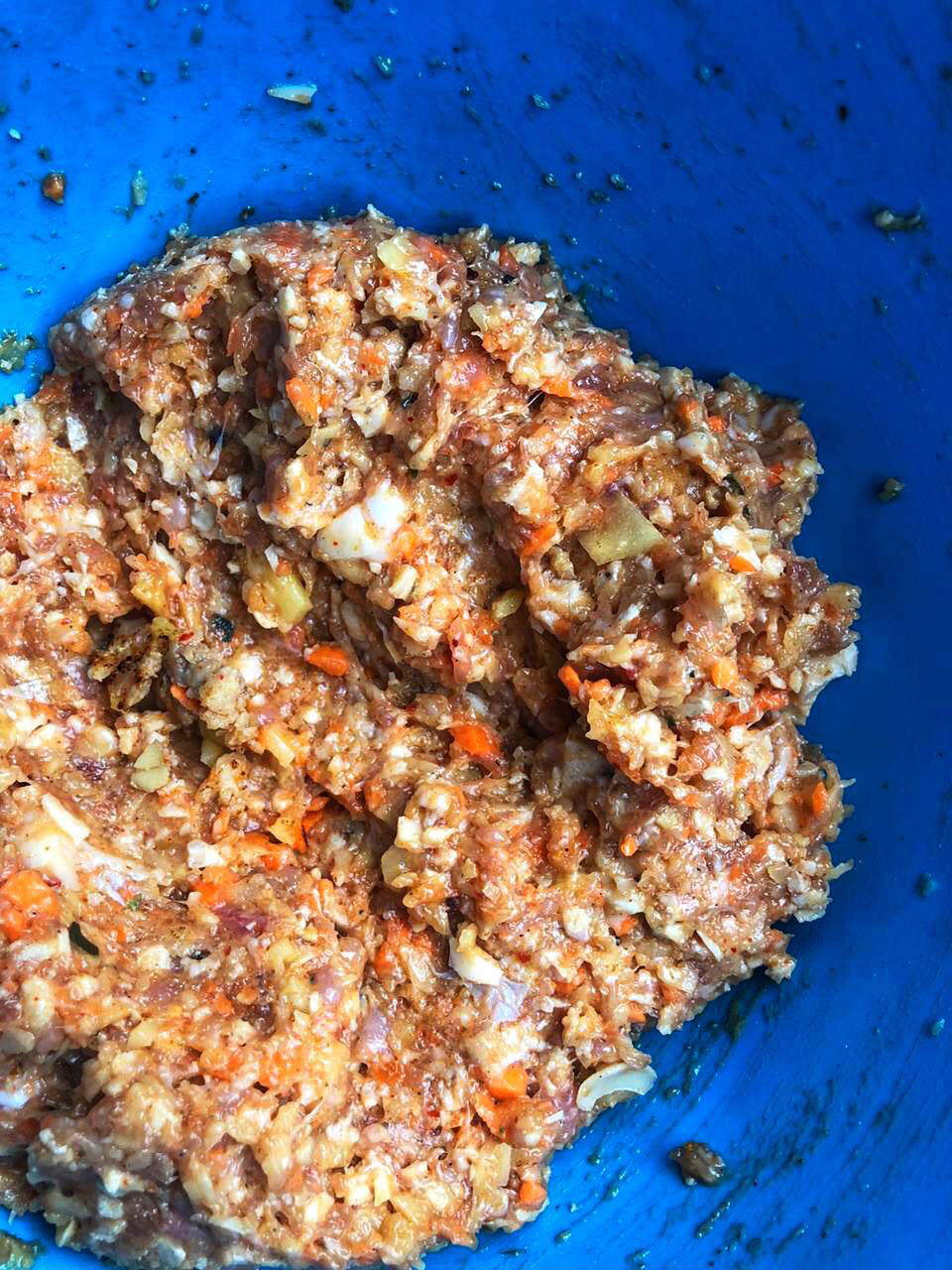 Bake the sausage rolls in an oven preheated to 180C, for 20-25 minutes, until the meat is cooked through, and the pastry is golden brown and puffed up.
These sausage rolls are freezer friendly too. I usually place them in an airtight container and freeze for up to 3 months. You can bake them straight from their frozen state for 10-12 minutes in an oven preheated to 180C or simply pop them in an air-fryer for a few minutes!