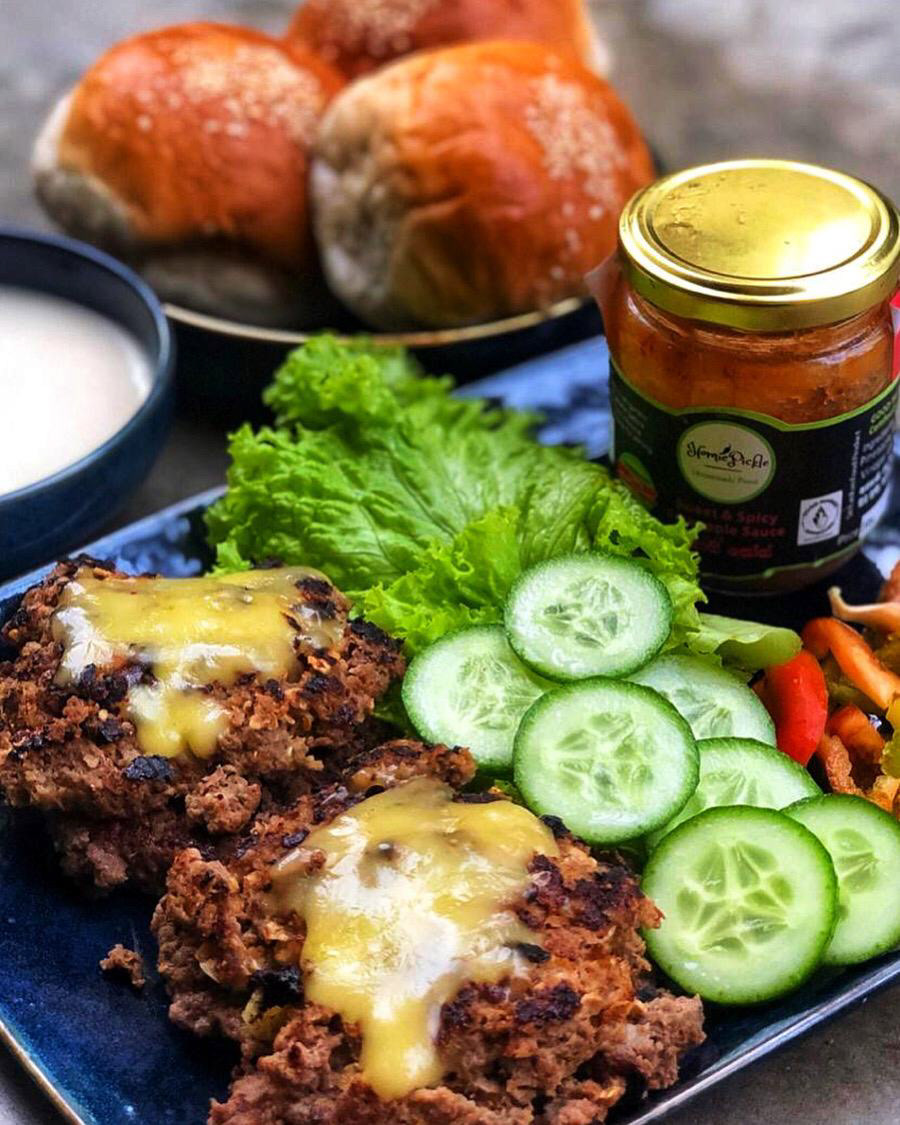 B

urgers usually fall in to that 'junk food' category, that kids especially love. There's something about a grilled meat pattie, covered in molten cheese and sauces, with a crunch of veggies all encased in a soft bun that is just so delicious. So, when the burger craving hit, we made these homemade cheeseburgers. These burgers have no added fat and are oh-so flavourful.
We seasoned the meat with Homie Pickle - Sweet and Spicy Pineapple sauce, which has lovely fruity sweetness and gentle heat. This sauce has no artificial flavours or preservatives, so is pretty much as good as homemade. We also added the spiced and gorgeous Sri Lankan sausage lingus to boost the flavour.
 - 500g Minced Beef
 - 1 Lingus link
 - 1 tsp Soy sauce
 - 4 tsp Homie Pickle - Sweet and Spicy Pineapple sauce
 - 2-3 tbsp Oats
 - 2 tbsp Samaposha

 


 - Salt
Remove the casing off the raw lingus and crumble it in with the beef. Add pineapple sauce, soy sauce, salt, oats and samaposha and mix until just combined.
The oats and 

s

amaposha, a local cereal made with whole grains, help bind the meat, absorb excess moisture and boost nutrition. 
Allow to marinade for 30 minutes. Shape in to patties and cook both sides on a hot non stick pan, until cooked through. We added some Swiss cheese on top once the meat was cooked. Serve hot with buns, veggies of choice Garlic Yogurt Sauce and more Pineapple sauce. 
 - 2 tbsp Buffalo curd or Greek yogurt
Mince the garlic as finely as possible. Whisk in the curd, mayonnaise and honey. Season with salt and serve chilled. This sauce can be stored in an airtight jar in the fridge for 2 - 3 weeks.