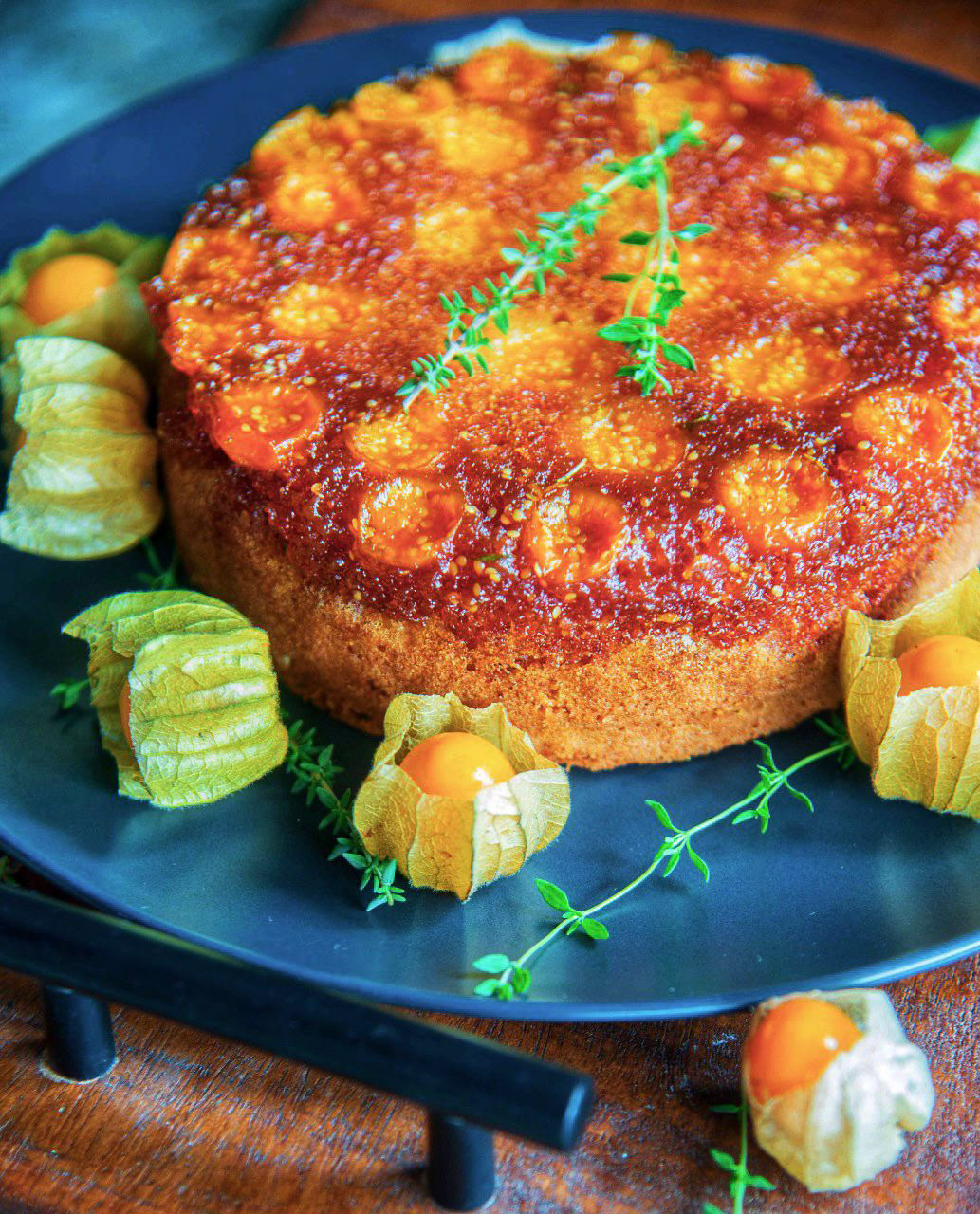 Move over pineapple, there's a new fruit in town! Gooseberries are packed with vitamins, antioxidants, fiber and help stabilize blood sugar (so a great addition to off set all the sugar in this cake)!
The cake itself is soft and moreish, with pops of sweet and tart caramel laden jammy berries peeping through. This recipe makes a 6 inch cake, but it can be doubled or tripled to make a larger cake. 
Line a 6 inch baking tin with baking paper. Place 2 layers of baking paper at the base of the tin. 

To make the caramel and gooseberry layer: 
 1. In a pot on the stove, heat sugar, butter and water. Avoid stirring and swirl the pan around until all the granules of sugar have dissolved. 
 2. Once the sugar syrup starts turning a brown caramel colour, take off the heat. It will get darker, as the cake cooks in the oven, so it doesn't need to be very dark at this stage. 
3. Pour caramel into the prepared baking tin. 
4. Place in the fridge to set slightly, as it makes placing the berries an easier task. 
5. Half gooseberries, as many as you'd need to cover the base of the baking tin. 
6. Once the caramel has set slightly, place the gooseberries cut side down on the caramel.  
 1. Cream butter and sugar. 
 2. Add eggs one at a time, and beat until each one is well combined. 
 3. Beat in yogurt and vanilla
 4. Fold in sifted flour and baking soda
 5. Carefully pour out in to the tin, without dislodging the berries.
 6. Bake for 25-30 mins in an oven preheated to 180C, until the cake is cooked through and a toothpick inserted comes out clean. 
 7. Once baked, allow to stand in the tin for 10 mins, then turn out onto a wire rack to cool (or on to a cake stand, as it tastes best warm out of the oven).
Best served warm with a cup of coffee at tea time, or with a scoop of vanilla ice cream for dessert.