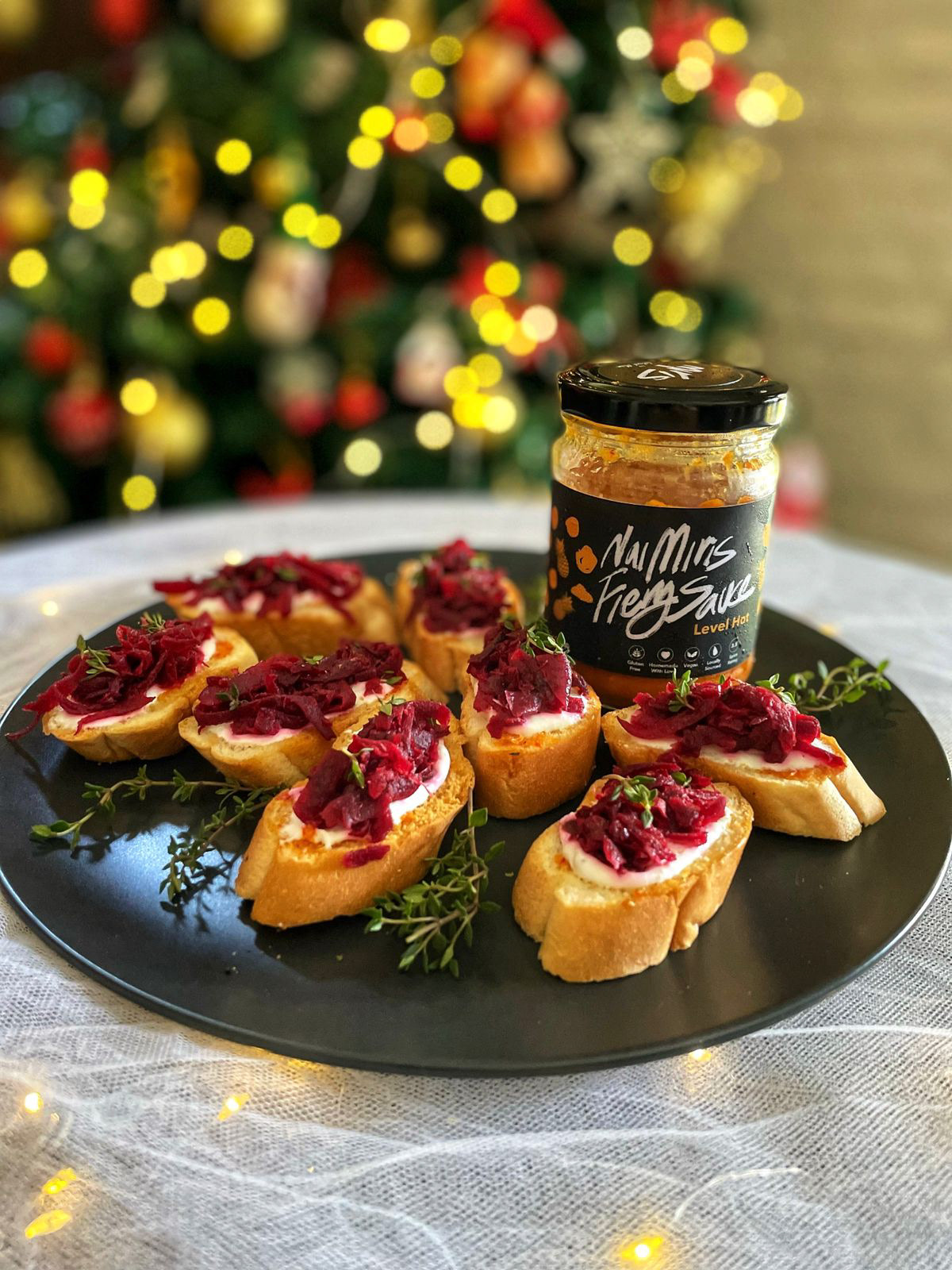 This is a vegetarian appetizer that truly whets your appetite and literally makes your mouth water. The ruby red beets, the bright pops of fresh herbs, all on a bed of pillowy whipped yogurt make it a pretty, Christmassy taste sensation- in red, green and white!
 - Slices of lightly toasted French bread
 - ½ cup Buffalo curd or Greek yogurt
 - 1 medium sized sliced Onion
 - 1 ½ cup grated Beetroot
 - 1 tbsp Kithul treacle or honey
 - 3 tsp Miris 'Level Hot' sauce + more to spread on the toast
 - Sprigs of thyme (or dill)
For the beetroot topping:
 1. Heat butter in a pot on the stove.
 2. Add sliced onions and cook until soft and slightly browned.
 3. Add grated beets, chopped thyme, honey, Miris Level Hot sauce and salt.
 4. Add 2 tbsp of water, mix well, cover and cook on a low heat for 10 minutes until beets are cooked through.
 5. Remove from heat and allow to cool.
​​​​​​​
For whipped buffalo curd:
 1. Whisk buffalo curd until smooth.
 2. Add a pinch of salt and chopped thyme.
 1. Spread a small amount of Miris 'Level Hot' sauce on the base of each slice of toast.
 2. Add a spoonful of whipped buffalo curd.
 3. Top with cooled beetroot and garnish with thyme.