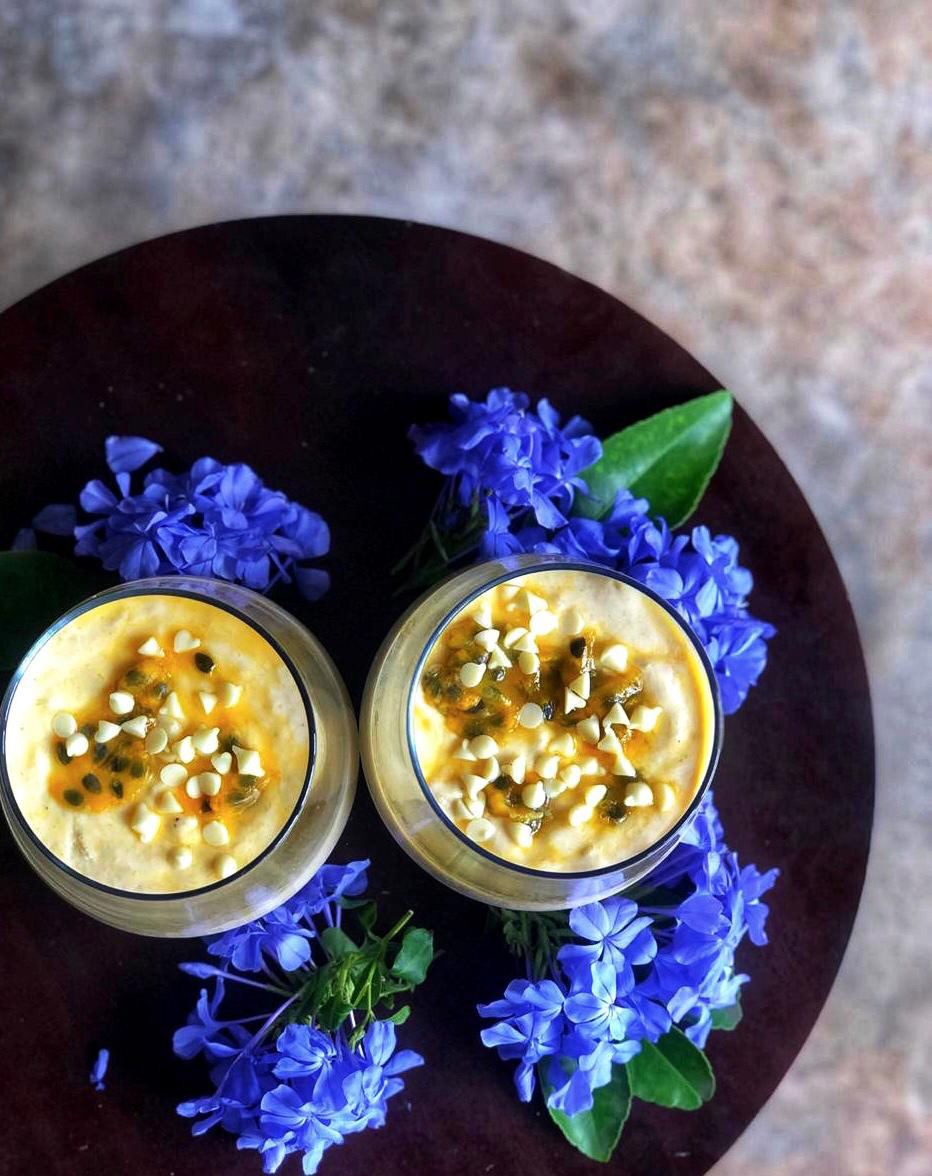 As far as cheesecakes go, this one is far from traditional. It simply nods to authenticity with the biscuit base, tangy flavour and that luscious mouthfeel of cheesecake.  It's also a more accessible recipe, especially for Sri Lankans as curd or yogurt is easier to source and definitely more budget friendly. Our tropical fruit of choice is pineapple, as we got a lovely juicy ripe one, but we often use other soft fruits, like ripe mango or tinned peaches. 
 - 1 tablespoon Condensed milk
 - 1.5 tsp Gelatin + 3tsp Water
We made the biscuit base first. We put the biscuits in a zip lock bag and Miss Podi Hands bashed it with a rolling pin, till we got crumbs. We then rolled it over with the rolling pin to break up any large bits of biscuit. We put this in a bowl and mixed in coconut oil (you can use melted butter), until it resembles wet sand. I usually just eyeball it and I don't have exact measurements for this. I like the crust to be fairly light and crumbly so we don't use too much oil. We spooned the crumbs into the serving glass, pressed it down and flattened it. Pop this in the fridge to chill slightly, while you make the filling.
We first prepared the pineapple, by coating it in a light layer of sugar and caramelizing it in a hot pan. You want the pineapple to soften and colour slightly on the edges. Once this cools, puree the pineapple till smooth.
To make the filling, I dissolved gelatin with water over a double boiler. Make sure there are no lumps. While this cooled slightly, we whisked the yogurt till smooth. No need to get out any machinery, just use a simple hand whisk and break up any lumps of yogurt. We added the pineapple purée, condensed milk* and dissolved gelatin.  In a separate bowl, we whisked the cream till there were soft peaks and folded it in in to the yogurt mixture. And that's your filling, done! 
Simply pour this over the biscuit base and chill it in the fridge for a couple of hours. We topped ours with fresh passion fruit and white chocolate chips. It was luscious, tangy and delicious! 
​​​​​​​
 *If you are using curd, as it's not sweet like yogurt, you may need to add a bit more condensed milk for that hit of sweetness.